Is your child getting quality sleep?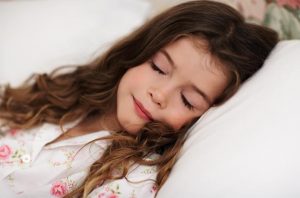 Sleep is essential for your child's growth and health.
Your child may not be getting enough sleep or adequate sleep if he or she exhibits these behaviors:
DIFFICULTY GETTING UP IN THE MORNING
CLENCHING / GRINDING TEETH
SNORING
MOUTH BREATHING
RESTLESS SLEEP
FALLING ASLEEP AT SCHOOL OR IN CAR ON WAY HOME FROM SCHOOL
ACTING OUT/ HYPERACTIVITY/DIFFICULTY PAYING ATTENTION
*If oxygen levels are not adequate at night, children can experience:
poor performance in school
being medicated unnecessarily for ADHD
not growing in height to potential
an inability to maintain a healthy weight
prolonged bedwetting
night sweats/terrors
sleep walking/talking
   *Risk factors of Sleep Disorders to be aware of:
Having enlarged tonsils or adenoids
Being overweight
Having caffeine, chocolate, or high sugar in diet
The Doctors of Lake District Family Dentistry may recommend one of the following:
An airway assessment to evaluate if your child may have enlarged tonsils or adenoids which can obstruct proper passage of oxygen while sleeping
Eliminating certain foods or drinks that may cause allergies/inflammation of the airway causes an obstruction
Opening your child's bite to allow for proper breathing and tongue position
Placing an appliance to help develop the arch sizes for proper tongue space
Therapy to learn proper tongue positioning
Referral to Sleep Specialist
If you think your child may have sleep issues, please talk to one of our Doctors today!